Greyhawk has a wonderful story about U.S. soldiers helping (as they often do) a gravely ill Iraqi child receive treatment in the U.S. Interestingly, the soldiers first encountered the child in a nightime raid on her home in the Abu Grhaib area of Baghdad, "terrorizing" (thanks, John Kerry!) the family who is now placing her fate in their hands. Yeah, right... /sarcasm

From the Atlanta Journal-Constitution: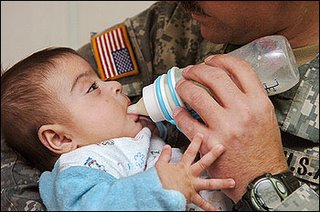 Staff Sgt. Darryl Clark, of Lula, Ga., Charlie Company, 1st Battalion, 121st Infantry, gets the honor of feeding baby Noor after delivering baby formula to her grandmother after their supply ran out at Camp Liberty in Baghdad. Noor, who was hungry and crying, fell asleep in Clark's arms after the bottle.